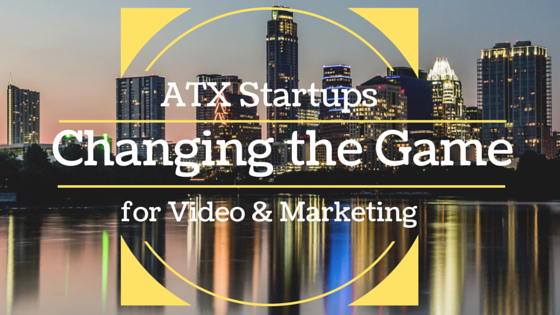 Austin Startups Changing the Game for Video & Marketing (Part I)
In recent years, Austin, Texas has grown into a diverse hub for technology and business, fueling a dramatic increase in new startups from the Austin area. Many of these small businesses are quickly gaining traction for the innovative services they provide, some fundraising millions of dollars in just a few short years. From real-time social analytics to education straight from your smartphone, the people behind these companies are smart, and the services they provide are even smarter. Take a look at part one of our series on Austin startups that are changing the game for video and marketing in 2015.
Get Smart Content makes it easy to reach the people your business needs to reach. Their team provides you with an intuitive platform from which to develop and distribute target-specific content to boost traffic to your website and drive engagement. They aim to resonate with potential buyers along every step of the buying process in order to "activate your web channel" and put your business in the best possible position within a matter of weeks.
Mattr
Using data from your brand's social platforms, Mattr provides real-time analytics to give your business valuable insights into the minds of consumers. Mattr uses tracking, segmentation, and language assessment, among other techniques, so they can tell you who's engaging with your brand, how to optimize your message content, and how to reach new target markets.
Querium
The Querium team built a program for your smartphone designed to help teenagers keep up with challenging STEM courses. Following a short series of assessments to determine a student's proficiency in a given subject, Querium provides these students with a program tailored specifically to their needs. The service makes it easy for students to learn by presenting lessons in short form video geared toward a variety of learning styles, whether visual, auditory, or otherwise.
Tugg
Tugg is a service for filmmakers and film-lovers alike. It works by expanding the reach of independently made films outside of their usually isolated circles to connect with people across the country who are passionate about film. Unlike services such as Kickstarter or Indiegogo, Tugg is a vehicle made by filmmakers for filmmakers. That way you can rest assured the right audience is seeing your project instead of you trying to compete among completely unrelated projects. Additionally, Tugg provides "Tugg School" to help educate filmmakers of all levels who may need a little extra coaching to get where they want to be.
---
Stay tuned for part two of this series, coming soon! Interested in more topics in video and marketing? >>
View Our Blog >>